-Introduction-
Since our inception in 2016 in Osaka, YOKOTA DENTAL OFFICE has sought to provide the highest standard of endodontic patient care. It has been our quest to meet the treatment needs of our family of referring doctors who entrust their patients care to us. We provide state of the art endodontic treatment at both of our conveniently located offices, and incorporate a quality-focused commitment to excellence provided by our doctors and staff.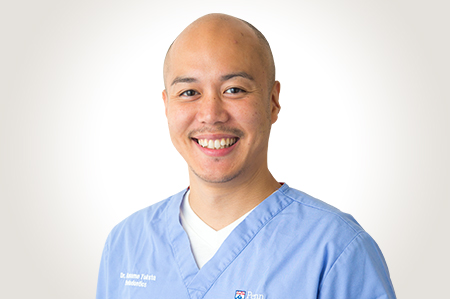 -Profile- Dr. Kaname Yokota
| | |
| --- | --- |
| 2006 | Graduated from the OSAKA DENTAL UNIVERSITY |
| 2014 | Enrolled in Department of Endodontics, School of Dental Medicine, University of Pennsylvania |
| 2016 | Graduated from Department of Endodontics, School of Dental Medicine, University of Pennsylvania |
| 2017 | Adjunct Assistant Professor of Department of Endodontics, School of Dental Medicine, University of Pennsylvania |
-For Patients-
Endodontics is a specialty in dentistry that focuses on diseases of the dental pulp and its supporting structures.
Endodontists are dentists with special post-graduate training in this field. Endodontists are also experienced at finding the causes of oral and facial pain that may be difficult to diagnose.
Although general dentists can perform endodontic treatment, patients are often referred to an Endodontist when the case is complicated or more difficult than usual. At the center of each tooth is the pulp, a network of blood vessels, nerves and connective tissue. The pulp may become infected due to trauma to the tooth, a deep cavity, cracks, or repeated dental procedures. Symptoms of the infection can be identified as visible injury or swelling of the tooth, sensitivity to temperature or pain in the tooth and gums.
If you experience any of these symptoms, your dentist will probably recommend root canal therapy to remove the infected pulp. This injured pulp is removed and the root canal system is thoroughly cleaned and sealed. This procedure is generally carried out under local anesthesia and may be completed in one or more visits depending on the treatment required.
Treatments are categorized into 6 categories depending on the tooth condition.
1Vital pulp therapy
The purpose of the Vital pulp therapy is to preserve the entire or part of the pulp tissue.
2Root canal treatment (Vital pulp)
To remove the inflamed pulp tissue, carefully cleans and shapes the canal system and then seals the root of the tooth.
3Root canal treatment (Necrotic pulp)
To eliminate the infected pulp, carefully cleans and shapes the canal system and then seals the root of the tooth.
4Root canal retreatment
With the appropriate care, your teeth that have had endodontic treatment will last as long as other natural teeth. Yet, a tooth that has received treatment may fail to heal or pain may continue to exist. Sometimes, the pain may occur months or years after treatment. If so, Endodontic Retreatment may be needed.
5Endodontic surgery
Occasionally, a non-surgical root canal treatment alone cannot save your tooth. And surgical approach will be necessary. The most common surgery used to save damaged teeth is an apicoectomy.
6Traumatic injures
A traumatic dental injury is damage caused to a tooth by an accident. Dental injury can result from a motor vehicle accident, playing sports, tripping and falling, or receiving a direct blow to the mouth. If you have suffered a dental accident or injury, we can help save your natural tooth using the latest treatments and technologies.
System
1Consultation & Diagnostic evaluation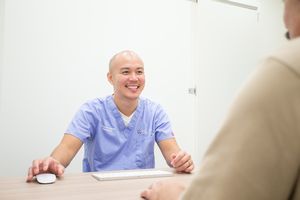 Your initial appointment will consist of a review of your medical and dental history, followed by digital x-rays and a clinical examination. We will then explain your diagnosis and treatment options, and will take the time to make sure that all of your questions are answered.
Depending on the situation, we will determine whether treatment can begin during this first consultation. Some situations may require a second appointment, to allow us enough time to complete the specific treatment you need.
2Treatment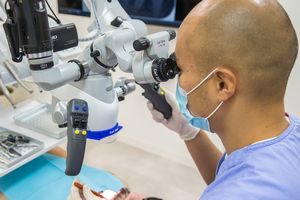 Once treatment is completed, you will return to your dentist for a permanent restoration (dental filling and possible crown). The restoration of the tooth is an important part of treatment because it seals the cleaned canals from the oral environment, protects the tooth, and restores it to function.
3Follow-up
A follow-up appointment with us is included to evaluate the healing process of the tooth. This follow-up will only take a few minutes, and is provided at no extra charge.
Treatment charge
※scrolling sideways
Consultation & Diagnosis
With referral letter ¥15,000
Without referral letter ¥20,000
Root canal treatment
Initial treatment
Retreatment
Anterior
¥110,000
¥130,000
Premolar
¥130,000
¥150,000
Molar
¥150,000
¥170,000
Build Up
¥50,000
Broken file removal
(per 1 portion)
¥40,000
Perforation repair
(per 1 area)
¥40,000
Vital pulp therapy
¥60,000
Vertical root fracture diagnosis
¥50,000
Apicoectomy
Anterior ¥130,000
Premolar ¥150,000
Molar ¥170,000
Intentional replantation
¥170,000
※Tax will be charged additionally.
※There are some cases which need additional charge.
※There is no compensation system for any treatment charge.
Information
Clinic
YOKOTA DENTAL OFFICE
Address
〒530-0001
1-3-1-200, Kitaku Umeda, Osaka city, Osaka
Phone
06-6348-3551
Clinic Hours
Open 9:00-13:00 / 14:00-19:00
Closed
Sun, Holidays
Directions
Floor map